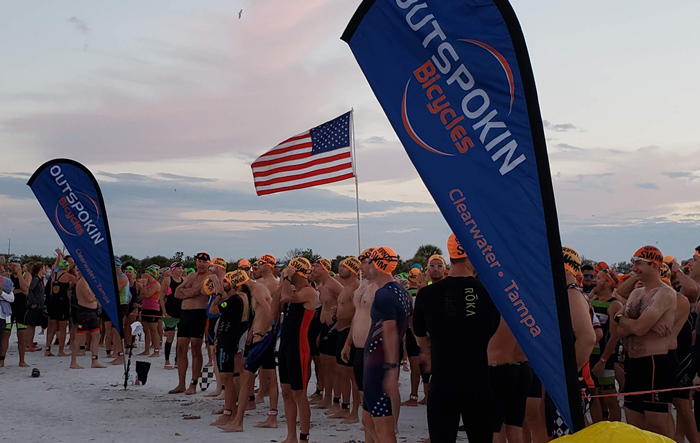 Details
"Escape From Fort De Soto"


Welcome new and returning Escape participants! 2022 marks the 36th year for the Escape from Ft. De Soto Triathlon. This year we are again proud to offer one of the best sprint triathlons in Florida, and back again is a duathlon. This year we are proud to announce an AquaBike event as well!
COME JOIN US
Escape From Fort De Soto on April 2ND, 2022 at 7:00AM
3500 Pinellas Bayway South
St Petersburg, FL US 33715

To those of you who have done the event before, welcome back. To those new to the event, you may be interested to know that the park is ranked one of the top-ten beaches in the United States; nine hundred unspoiled acres surround you. First timers, we anticipate that you will have a great first triathlon at Ft. De Soto.

To all, we ask that you enjoy the surroundings and please leave the park cleaner than you found it.
INCLUDES
A bucket list race, for sure!
Pre / post race parties

T-Shirt to all pre-registered athletes

The event is chip-timed and athletes will receive splits for each segment of the race

Age group awards 3 deep in ages 15-19 up to 80 and over

Snacks, Fruits, Body Armor.
Parking fee into the park paid
We encourage you to come to come to package pickup Thursday/Friday and support our sponsors and vendors. Save the stress of race day and get your packet. Follow the signs as you come into the park on Saturday. Late pickup is available on Saturday at 5:15am, but with the number of athletes participating, we STRONGLY encourage you to come on Thursday-Friday
PACKAGE PICKUP
Outspokin Bicycles-Clearwater
2241 Gulf to Bay Blvd
St Clearwater, FL 33765
THURSDAY MARCH 31ST
4:00PM TO 6:00PM


FRIDAY APRIL 1ST
2:00PM TO 6:00PM



Race Morning APRIL 2ND
6:00AM - 6:45AM
at THE FORT Shelter #11


You must furnish a photo ID and proof of current USAT membership.
GOOD TO KNOW
This will be a event you don't want to miss



All relay team members must be present at the same time to pick up your packet. Substitution of a relay team member will not be permitted. Closed course of racing in Ft De Soto.



USAT Sanctioned event monitored by USAT officials for your safety.



You must furnish a photo ID and proof of current USAT membership. If you do not have USAT membership you will be required to purchase a one-day license. Per our sanction agreements you can only pick up and sign the waiver for yourself. You are not able to pick up someone else's packet.
PARKING / TRANSITION
Race Day Parking



Parking fee into the park is paid for by event staff proceed past toll booth into the park accordingly. Race day parking is at THE FORT. Follow the signs, sheriff deputies will be on hand to guide you to the lot. You can NOT leave the parking area during the event so do not try to. If you have family or relatives coming to watch they must be in the park by 6:45am since all roads will be closed during the event.



Transition Area Access



The transition area will be open on race day from 5:15 am – 6:30 am only. Any athlete, including relay team members, who arrives after 6:30 a.m. will not have access to the transition area. Only athletes who are body marked will be allowed access. You will not be allowed access to the transition area to reclaim your bicycle and gear until after the last athlete has started the run (approximately 9:30 am). It will be announced when transition is opened. NOT Before.
RACE MAP
Fort De Soto
3500 Pinellas Bayway South
St Petersburg, FL US 33715
The Sprint Distance is a 1/2 Mile Swim, a 10 Mile Bike, and a 5k Run on a marked course
The Duathlon is 1.5 Mile Run, a 10 mile bike, and a 5k Run on a marked course.
The Aqua-Bike is 1/2 Mile Swim and a 10 mile bike.
REFUND POLICY
Fort De Soto Triathlon



Reserves the right in the event of inclement weather, emergency, or natural disaster to cancel the race or move to a later time. In the event of cancellation, there will be no refund of entry fees. However, the USAT fee, if pre-paid, will be refunded.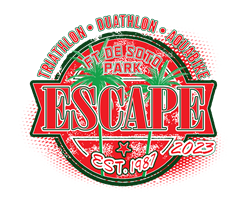 Upcoming Dates
Full Size Map